A look into confection trends
by Lebermuth, on Feb 06, 2020
Consuming sugar confectionery is commonly thought to improve overall mood because the taste is enjoyable, pleasing, and sometimes a little adventurous. Naturally, the conscious consumers want to eat their sweets, maintain a healthy lifestyle, while also saving the planet.
We are seeing more and more confectionery manufacturers launching new or revised products like biodegradable chewing gum, or sweet snacks that utilize natural, organic and CBD ingredients.
RECENT PRODUCT LAUNCHES
GUM, GUMMIES & CBD-INFUSED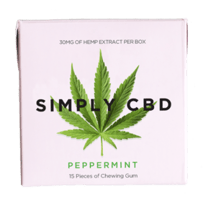 Launched in November 2019, Simply CBD Peppermint chewing gum promises to "leave more than just your breath refreshed" with 30mg of hemp extract per pack. It is the newest addition to the Simply Gum lineup of aspartame free chewing gums. Simply CBD is made with both organic and all-natural ingredients and is also vegan, kosher, non-GMO, and gluten free.
Founded in 2010, The PÜR Company wants to help consumers "kick aspartame" with PÜR Gum Aspartame Free Peppermint chewing gum. Available in a variety of flavors, the chewing gum is made with all-natural flavors and is vegan, non-GMO, and allergen free.
The founder of Smart Sweets is on a mission to help people "kick sugar, keep candy." Smart Sweets Sour Blast Buddies are plant-based gummies made without sugar, artificial sweeteners or colors, and is gluten free and non-GMO.
HARD CANDIES & VITAMINS
Founded in 2005, YumEarth offers Wild Peppermint Hard Candies that a

re

naturally flavored, contain peppermint oils, and is USDA certified organic, vegan, non-GMO, and gluten free.

Holistix Organic Hemp Co. (not to be confused with Holistic Hemp Co.) has a "delightful treat for the mind and body" with Organic Hemp Extract Hard Candies. This product does not offer a peppermint flavor option, but it is certified organic, gluten free, non-GMO, and kosher.
An intriguing invention that uses peppermint oil to mask the signature fishy odor that emits from some multivitamins. Ritual introduced a Minty Tab in 2019, a "food-grade plastic insert we could infuse with pure essential oil" and "eliminate the odor from our completely natural omega-3 vegan algal oil."
LEBERMUTH AND THE CONFECTIONERY INDUSTRY
The Lebermuth Company has spent over 111 years perfecting a legacy in essential oils, the building blocks of our flavors. We partner with you to understand your challenges and create natural or synthetic flavors that elevate your lip balm, oral care, sports nutrition, confection, chewing gum or CBD products.
---
Sources:
Mintel
https://smartsweets.com/products/sour-blast-buddies-1
https://ritual.com/articles/meet-our-minty-tab