Word of Mouth: What's trending in oral care
by Publication repost, on Nov 07, 2019
REPOST AUTHOR l Happi.com Christine Esposito, Associate Editor
From flosses to paste formulations that tackle key issues and contain unique ingredients like hemp seed oil and cacao, oral care brands are pulling out all the stops to garner consumers' attention in this category that straddles the line between health and beauty.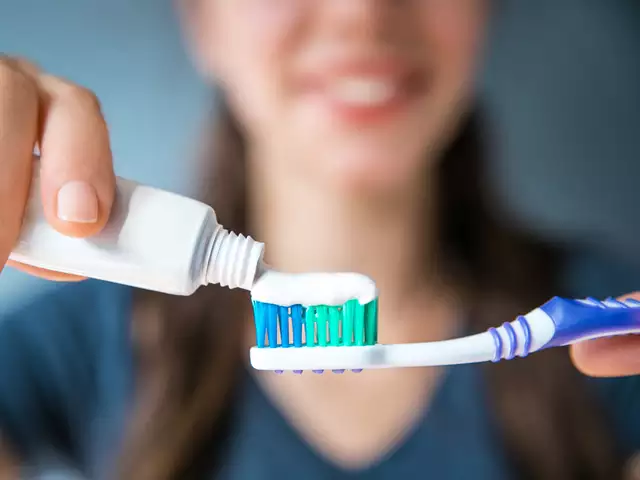 It is the latter attribute, however, that has witnessed a dulling of late as consumers seem to be slowing down their use at-home products that promise whiter smiles without dentist intervention. According to data from
Information Resources
, sales of tooth bleaching and whitening products such as strips fell 4.2% to $282.2 million during the past year.
In contrast, toothpaste sales overall rose 2.5%, and SKUs that offer brightening benefits fared well in the market too, an indication that having a bright white smile still matters.
Pain relief appears to be another main issue, as shoppers spent more money on treatments to dull tooth pain than in the previous year. According to IRI, oral pain relief sales jumped 5.5%, and toothpaste products that addressed sensitivity posted gains as well. For example, several Sensodyne toothpaste SKUs recorded gains over the past year, which is one reason why
GlaxoSmithKline (GSK)
is the No. 3 manufacturer in the toothpaste category overall, trailing leader
Procter & Gamble
and
Colgate
(No. 2).
The major players continue to up their game when it comes to toothpaste formulations that deliver multiple benefits.
Last month, GSK rolled out Sensodyne Rapid Relief Whitening, a toothpaste that helps "beat" sensitivity in as little as three days with twice daily brushing, while also helping to whiten teeth by gently lifting stains and preventing new stains from forming. According to GSK, the formulation has been engineered to address sensitivity pain by quickly creating a protective barrier over the sensitive areas of teeth to keep outside triggers from reaching the nerves. According to GSK, sensitivity pain occurs when dentin, the softer inner layer of the tooth, becomes exposed revealing small canals known as tubules. Consuming hot or cold food and drinks can trigger the nerves inside the teeth when they reach the exposed dentin tubules, resulting in pain. Similar to Sensodyne Rapid Relief, which launched in the US last year, this new whitening formula also includes stannous fluoride that starts to form a gel-like scaffold over exposed dentin tubules, according to the firm.
"At GSK, we pride ourselves in creating multi-action products that hit on all consumers' oral care needs," Adam Sisson, head of oral health research and development at GSK Consumer Healthcare, said in a press statement. "With the success of Sensodyne Rapid Relief, the team worked to ensure sensitivity sufferers who need fast relief, but want to maintain a white smile, have a product that works for them."
Earlier this year, Procter & Gamble's leading Crest brand expanded its line with Crest Gum and Sensitivity, which targets the gum line to provide healthier gums and provides fast sensitivity relief. This formulation, which hit retailers in June, also contains stannous fluoride and targets the gum line to help neutralize plaque bacteria.
Competitive Spirit
While the marketplace is dominated by big brands like Crest, Sensodyne and Colgate, smaller players also actively pursue periodontal consumers with their own formulations. For example, there's New Orleans-based Theodent, which contends it has clinicals to prove its products provide relief better than market leaders thanks to Rennou, an active ingredient comprised of theobromine, calcium and phosphate.
"The ratio of these three ingredients in our formulation is proprietary and only efficacious in a specific combination," said Jantzen Hubbard, director of operations and media. According to Hubbard, with Rennou, the theobromine combines with calcium and phosphate to remineralize the surface of teeth.
"Saliva naturally has calcium and phosphate in it, aiding in tooth remineralization. Introducing theobromine into the mix enhances enamel strength through natural remineralization," he said.
The brand, which has been on the market since 2012, offers two formulations, Theodent Classic and Theodent 300, the latter of which is a clinical strength, professional product with a much higher price point. The formulations have different concentrations of its proprietary ingredient, Rennou, which traces its origins back to the 1980s when Dr. Tetsuo Nakamoto and Dr. Malektaj Yazdani collaborated on research that analyzed the effect of caffeine on pre-natal bone growth.
"Because of their research, we know now that pregnant women shouldn't ingest caffeine because it stunts the bone development of the growing baby. As that research portfolio grew, variant molecules of caffeine were studied, namely theophylline (found in tea) and theobromine (found in chocolate). The original hypothesis proposed that all members of this molecular family, called methylxanthines, would have a similar effect, being harmful to pre-natal bone growth," noted Hubbard.
Further research, however, led to an unexpected discovery: theobromine did not have a shrinking effect on enamel crystals; instead it increased enamel crystal size.
According to Hubbard, this previously unknown property in cacao "revealed an ironic truth: a component of chocolate actually enhances enamel strength."
In the mid 2000s, Dr. Arman Sadeghpour looked at Nakamoto's research in a new light; he applied a neural network analysis of enamel hardness responses to both theobromine and fluoride. He found that the theobromine treatment produced harder enamel than a similar treatment of fluoride.
Sadeghpour, Nakamoto and Joseph Fuselier together founded Theodent in 2007, and five years later launched its first toothpaste. Today, the brand can be found in places like Whole Foods, and Theodent's true point of differentiation is the science that backs up its claims, according to Hubbard.
"We have quite a lot of research dating back to the early 1980s. Our big clinical trial conducted at the University of Texas San Antonio Health Sciences Center was conducted using Theodent Classic, which out-performed prescription strength Sensodyne NuPro5000 and Colgate in remineralization and hypersensitivity reduction," he told Happi.
Ingredients and Ideas
Elsewhere in the oral care category, the NPD pipeline is filled with new, more naturally-focused ingredients and flavor profiles designed to pique consumer's fancy.
Last month, indie oral care company Hello Products released its new collection with hemp seed oil. The on-trend range includes Hemp Seed Oil + Coconut Oil Extra Moisturizing Mouthwash, Hemp Seed Oil + Coconut Oil Extra Freshening Fluoride Free Toothpaste, Hemp Seed Oil + Coconut Oil Extra Freshening Fluoride toothpaste, and Hemp Seed Oil + Coconut Oil Infused floss, which is non-GMO, no PFAS, no shred and features natural vegan wax formulated with xylitol.
Another naturals brand, Schmidt's, has made a foray into child oral care. The company's new Kids Tooth+Mouth Pastes are plant-powered, fluoride-free formulas that include vitamin E, aloe, coconut oil, and tea tree, and come in three flavor profiles—Watermelon+Strawberry, Mint+Berry and Coconut+Pineapple.
While the latest news from market behemoth Colgate is a new partnership with Sarah Michelle Gellar who will pitch the Colgate Optic White line, the brand's biggest endeavor is designed to have a more lasting and meaningful impact. Colgate's "Save Water" Campaign, which commenced in 2016, has by some calculations, led to an estimated 99 billion gallons of water saved.
This September during the UN's Climate Change Week, Colgate convened leaders in sustainable water for a panel discussion on the cumulative impact that individual action has on water conservation and climate action. In addition, Colgate has been recognized as a "Lead" company by the UN Global Compact—a designation given to companies that represent the highest level of engagement with the compact.
And just as this issue was heading to press, Colgate was set to promote "Imagine a Day Without Water" by partnering with the American Water Works Association and the Value of Water Campaign to further behavior change.
Whether with formulation enhancements, familiar faces or forward-thinking initiatives, leading marketers make sure their oral care brands stay on the tip of consumers' tongues.
---
THE LEBERMUTH DIFFERENCE
Since 1908, The Lebermuth Company has been a leader in the mint essential oils, it is our passion. Our knowledge, expertise and capabilities allow us to go beyond just selling or formulating with mint oil, it allows us to create.
Lebermuth offers more than 50 variations of Organic and Conventional Mint Oils, which are also used in our customized mint formulations, flavors and fragrance.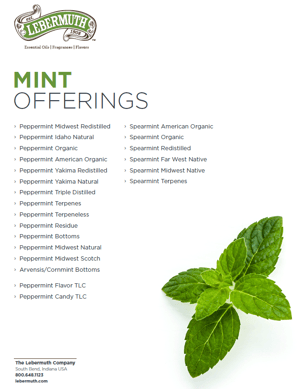 ---