Resting and Relaxing in a Tiresome 2020
by Lebermuth, on Aug 11, 2020
Relaxing in 2020 can be difficult amid the pandemic and a good night's sleep can boost the immune system and keep anxiety at bay. Both top-of-mind priorities for COVID-concerned consumers. This will propel the already burgeoning sleep category with innovations in smart relaxation and sleep care. We look at the new products supporting consumers' quest for tranquility.
Opportunities
Anxiety Aids
Stress and sleep don't make for good bedfellows. While worrying makes drifting off more difficult, sleep deprivation can in turn lead to anxiety. Products that stimulate calm and help keep unease away from the bedroom with calming botanicals will have lasting relevance for a precarious future.
Breathe In, Breathe Out
US natural
cleaning brand
Branch Basics
feature toxic-free home cleaning products to inspire people
to live a clean and pure life. They offer an unscented laundry kit that includes laundry detergent concentrate, laundry bottle and oxygen booster to clean clothes and remove stains without irritation to skin or fragrances.
Even our laundry detergent can influence sleep.
~Marilee Nelson, co-founder of Branch Basics
Love Home and Planet
laundry detergent, dish & home cleaning products are mostly plant-based and contain natural, ethically sourced lavender, which is known to promote a sense of calmness and relaxation.
Freeman Dead Sea Minerals Anti-Stress Clay Mask
has been relaunched with a new brand name and clay mask to help replenish and balance moisture while purging clogged pores; utilizing
lavender
and bergamot to help put skin in a bliss-like state and rinse away stress for smooth, radiant skin.
While
51%

of aircare users in the US use essential/scented oils for their health benefits, younger consumers are especially interested in beneficial aircare, with some 33% of 18-24, significantly higher than other age groups. ~Mintel GNPD

A personal diffuser by Californian wellness company Cloudy similarly uses lavender essential oil as well as chamomile and melatonin, and can be inhaled for instant sleepiness – working faster than any other product on the market.

Cosmetic brand

Mokosh

has launched a range of candles which feature essential oils to create a more tranquil environment and include a pack of matches. The recycled paper matchsticks are impregnated with seeds, which once used can be planted in the ground to "see what will grow".
Supercharged Skin While We Sleep
From potent sleep masks to advanced delivery systems, nighttime skincare innovation is rife. "While sleep experts provide tips on how to get to sleep, beauty brands are delivering technical expertise with innovative products and the latest scientific formulas to work on skin overnight," said June Jensen, director of UK Beauty at global market research firm NPD.
A lot of people are tired and wired.
~Jenya Di Pierro, herbalist & founder, Cloud Twelve
Overnight Mask Opportunity
Inspired by
K-Beauty
'
sleeping packs
'
(overnight face masks), beauty brands are developing potent skin-hydrating masks and treatments that get to work while we snooze. The global overnight face mask market is predicted to be worth $29.4bn by 2025, rising at a compound annual growth rate of 7.1% (
Grand View Research
, 2019).


"
When we sleep, our skin becomes active, metabolic processes kick in, and the skin cleanses and renews itself,
"
Sarah Zimmer, founder of German skincare brand
Naya
, told Stylus.
"
Active ingredients empower the skin
'
s regeneration process
to replicate and reproduce skin cells during the night. Wearing an overnight mask is like giving that renewal process a helping hand.
"


Naya's
Overnight Hydration Mask
contains adaptogenic snow mushroom, vitamins A, C and E, and five different types of hyaluronic acid to hydrate multiple dermal layers and support collagen production.
High-performance nighttime skincare with patented technology appeals to serious

skintellectuals

.

US doctor brand Murad's

Night Fix Enzyme Treatment

's skin-renewing chronopeptide and antioxidant tri-enzyme technology works in sync with the body

'

s circadian rhythms to reduce visible signs of ageing. Singapore

'

s Allies of Skin

'

s

1A Retinal and Peptides Overnight Mask

contains encapsulated, time-release retinaldehyde to gently combat blemishes, fine lines and sun damage, while a 13.5% peptide complex restores stressed skin.
Dream Delivery Systems
As explored in Skincare Projections 2020, advanced delivery systems enable active ingredients to penetrate the skin overnight. US brand Noble Panacea's Organic Molecular Vessel serum technology is 10,000 times smaller than a skin cell, and time-releases precise product dosages to exact locations.
French luxury brand Guerlain's Orchidée Impériale Sleep Serum combats nocturnal hypoxia (the restriction of the skin's oxygen supply caused by laying against a pillow) and 'puffy' morning skin by diffusing micro-droplets of orchid-infused formula deep into the epidermis.
| | | |
| --- | --- | --- |
| | | |
| Murad | Allies of Skin | Guerlain |
Holistic Herbals & Potent Potions
With 'Covid-somnia' rampant and 68% of US millennial's and Gen Xers now more willing to try sleep meds (Hearst, 2020), consumer demand for snooze-related supplements is booming. Poor sleep also ages skin, inhibiting production of the sleep hormone melatonin – a vital antioxidant nutrient.
Sleep Support
London apothecary Anatomē offers a free personalized sleep report via an online questionnaire, prescribing the best sleep oil compound to use. For instance, Light Sleeper features a signature note of Japanese Seaweed to support deep, unbroken sleep.
Skin-centric Sleep
A potent blend of vitamins and ionic minerals, its H30 Night Repair contains water-balancing electrolytes, hydrating hyaluronic acid and antioxidant astaxanthin. It also includes magnesium, which binds to gamma-aminobutyric acid (GABA) receptors – the neurotransmitters responsible for suppressing nerve activity – helping the body go into 'sleep mode' more quickly.

Luxury nutraceutical brand Lyma has added Affron – an anxiety-balancing, restorative sleep-boosting extract of saffron – to its patented formula. It joins Cynatine HNS – a robust form of keratin which helps to protect and repair hair, skin and nails.
Naturopathic Nervines
Potent herbs with stress-busting and sedative properties, nervines are following adaptogens' trajectory from buzzworthy ingestible to skincare ingredient.

US brand Ami Wellness's hemp-infused Dream Body & Face Oil contains blue skullcap and lavender to promote sleep, plus meadowfoam seed oil to improve skin condition. Khus+Khus's Rasa Restorative Potion combines Ayurvedic and Western nervines – reishi mushroom and Californian poppy – with hydrating hemp-seed butter.

Meanwhile, French supplement brand D+ For Care's mint verbena-flavored Dodo mouth spray teams 1.9mg of melatonin with lemon balm, passion flower and chamomile to facilitate sleep.

| | | |
| --- | --- | --- |
| | | |
| Ami Wellness | Khus + Khus | D+ For Care |
CBD Bedtime Boosters
The global CBD beauty market is predicted to be worth $25B by 2029 (Market Watch, 2019), with 'booster' and ingestibles a growing category.

US skincare brand Rodial's CBD booster sleep drops team calming and anti-inflammatory cannabidiol and purslane with skin-plumping collagen and squalene; while UK brand Votary's Super Boost Night Drops blend 2% CBD with radiance-boosting strawberry seed oil and antimicrobial rosemary leaf extract. And American weed publication Gossamer's Dusk tincture (dispensed under the tongue before bedtime) blends cannabinoids and aromatic terpenes.
Aromatherapy: Breathe & Sleep
UK sales of skincare with aromatherapeutic ingredients rose over 500% between January and April 2019, compared with 2018 (NPD, 2019). "The growing interest in functional fragrance, inhalable supplements and scented mood enhancers is happening in tandem with a revived focus on essential oils," said Alexia Inge, co-founder of British e-tailer Cult Beauty.
The stresses of the pandemic will create a greater reverence for sleep, and there will be greater recognition that a good night's sleep should not be taken for granted.
~Libby Banks, co-founder, The Seated Queen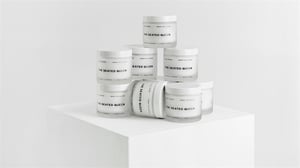 With the tagline 'Own the Night', British brand
The Seated Queen
's cleanser-mask hybrid
Ultimate Cold Cream
is infused with aro
matherapy essential oils including lavender and bergamot, which lower blood pressure and heart rate.


"The link between scent, routine and sleep cannot be overstated,"
said co-founder Libby Banks, who believes Covid-19 has changed how we value sleep.
"
Scent
taps into the olfactory nerve and connects to the brain, so we worked hard to structure a soothing scent that becomes part of the evening routine, washing away the day and preparing for sleep.
"
Taking a warm shower or bath one to two hours before bed improves the "temperature

circadian rhythm", according to researchers in the Department of Biomedical Engineering at the University of Texas at Austin (

Medical News Today

, 2019). This helps people to fall asleep more quickly and improves sleep quality, pointing to a product opportunity for bath and body brands.
Wellbeing brands are elevating traditional Epsom salts with sleep-inducing nervines and aromatherapeutic essential oils. US brand Goop's

G.Nite Bedtime Bath Soak

includes valerian root, passion flower and hops. London-based Verdant Alchemy's

Drift Off Mineral Bath Salts

blend lavender, mandarin and vetive
r; and Australian coffee-scrub brand Frank Body's
In Your Dreams
scrub-meets-soak makes use of Epsom salt's exfoliating properties, along with calming lavender, chamomile and inflammation-busting magnesium.
| | | |
| --- | --- | --- |
| | | |
| Goop | Frank Body | Verdant Alchemy |

Shower Spas
Showers are transformed into sensorial spa experiences via
bath-bomb-like tablets infused with essential oils, which release their aroma as they melt. US brands
NHCO Botanical Bodycare
and
Laki Naturals
' bedtime versions contain lavender and chamomile.
Sleep mists and pillow sprays are spritzed onto bed linen to encourage deep sleep.
Japanese lifestyle start-up Athletia's
Breathe and Sleep
Switching Aroma Mist features a calming forest-inspired blend of woody frankincense and cleansing eucalyptus. Meanwhile, London-based perfumer Earl of East's
Nerumae
– which means 'to lie down to go to sleep'
in Japanese
– contains mandarin, lavender and frankincense.
Chicago-based spiritual brand
Remix by Giselle Wasfie
's
Chill/Night: Sleep Therapy
spray blends "smokier-scented" lavender, stress-busting grapefruit and soothing vetiver, and comes with an energy-charged quartz crystal for additional healing purposes.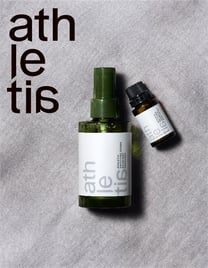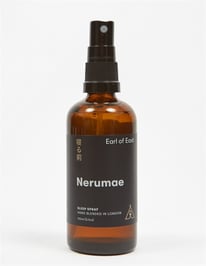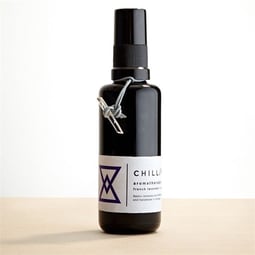 | | | |
| --- | --- | --- |
| Athletia | Earl of East | Remix by Giselle Wasfie |
Help Your Customers Rest & Relax with Lebermuth Fragrances
Essential Oils Blends:
91-1053-89 LAVENDER SYNERGY
91-1052-37 GOOD NITE
93-0138-27 QUIET CEDARWOOD SYNERGY
93-0131-88 REST & RELAX
95-5006-64 DREAMY LAVENDER
95-5001-68 TRANQUILITY III
94-4007-47 SLEEP
91-1048-94 FOCUS
All-Natural Fragrances:
95-5001-12 BE RESTFUL
93-0137-10 PEACE
91-1048-23 SPIRITUAL AWARENESS
91-1043-19 JASMINE GREEN TEA
93-0130-36 LAVENDER, SAGE & HONEY
91-1020-75 LAVENDER & WHITE TEA
95-5001-13 BREATHE
Fragrances:
94-4005-73 SLEEPY LAVENDER VANILLA
93-0129-49 LAVENDER DREAMS
95-5003-38 CALMING JASMINE
93-0124-57 LAVENDER CHAMOMILE
91-1035-13 STRESS RELIEF
91-1045-42 SWEET DREAMS
91-1045-39 SWEET HONEY & CHAMOMILE
93-0136-28 HARMONY & BALANCE
* 25 lb order minimum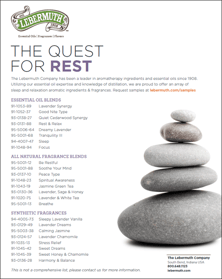 ---
Sources:
Mintel GNPD
https://www.stylus.com/covid19-the-beauty-sleep-opportunity
https://branchbasics.com/shop/laundry-kit/