Men's Grooming Trends & Fragrances
by Lebermuth, on Sep 22, 2020
In 2019, global opportunities for men's grooming products sought to appeal to a more informed eco-conscious consumer, stress convenience, and align with wellness and inclusivity trends. New product developments for men included items within the shaving preparations, razors, deodorants, hair styling, and shower categories with less developments in depilatory (hair removal), face and neck care, shampoo, bar soap, and eye care categories.
However, more innovative product launches emerged in these less developed categories with a fresh focus on appealing to:
Convenience and bespoke trends by appealing to busy men with minimal care steps, multiple benefits, effective results, mess-free and portable sticks, lightweight powders, and offer customization for specific grooming needs and wants.
More informed eco-conscious consumers

by spotlighting sustainability, recycling capabilities, refillable and upcycling concepts, as well as water and plastic reducing formats, and 'clean beauty' messaging.
Men's wellness and inclusivity trends

by de-stigmatizing mental health issues, offering stress-relieving adaptogens, probiotics, and better targeting the under-represented.
Product development should continue to innovate to fill in the gaps by offering products that meet these points:
1) TAP INTO EASY ROUTINE & CUSTOMIZATION TRENDS
Men seek to simplify their grooming routine without compromising results, benefits, and textures. The customization trend created masculine-specific subscription boxes that are focused on supplying grooming essentials through the mail which solves ease of ordering, customization, and convenience.
According to Mintel:
24%

of male skincare users would like to adjust their skincare based on their needs each day
21% would like their skincare products to be custom made for them
25% of US men have used a subscription service and among users
57% have signed up because of good value perceptions
52%

have signed up because it is convenient.
Popular Subscriptions:
Dollar Shave Club

offers customizable monthly subscriptions with choice of razor, shaving essentials, shower products, hair care, oral care, skincare, and recently launched deodorant, wipes, and fragrance options.

BirchBox Grooming

offers personalized monthly subscriptions based on preferences and needs with trial-size products for hair care, face and body care, beard care, shaving essentials, as well as vitamins, razors, and fragrances.
Harry's

offers a customizable monthly subscription similar to Dollar Shave Club's. Harry's products focus on shaving essentials, face care, shower products, hair care, as well as accessories like a toiletry and and razor stand.
An appeal to social media fans with 'instant filter-effect' trend also has surfaced product innovation targeted to provide "real life digital filter effect" with Lab Series Skincare's Instant Filter Moisturizer.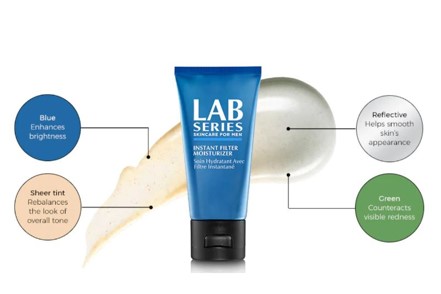 Source: Lab Series Skincare For Men
According to Mintel, 31% of older Gen Z BPC users are informed about BPC products via Instagram.
2) MARKET NATURALNESS/SUSTAINABILITY
Concerns around naturalness and sustainability trends may be the most emphasized trend for conscious consumers that includes attention on:
Clean Products

54% of male buyers of natural/organic personal care products agree a product appears natural/organic if it is marked as 'clean'
Environmental Sustainability Factors

21%

of men in the US agree that environmental sustainability is an important area for companies to support
Eco-friendliness

33%

of male hair care users agree that natural hair care products are better for the environment.
In the US. during 2019, the BPC (Beauty Personal Care) product launches saw the largest claim growth in the botanical/natural category, while eco-friendly, vegan and organic remain lower and were relatively flat.
That natural men's grooming space is expected to continue to increase, some product launch highlights are:
The

Counterman

collection

promises cleaner, results-driven skincare

formulated to address the unique needs of men's skin and facial hair.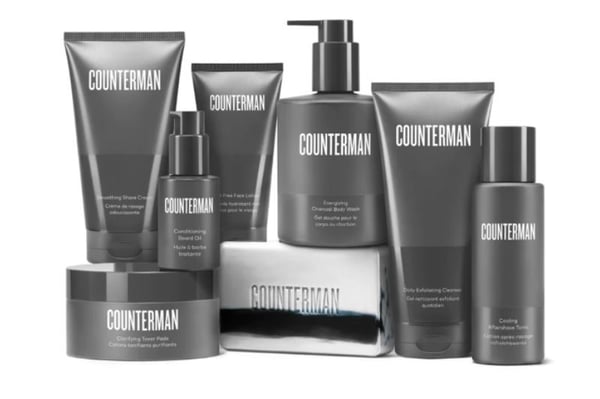 Source: Beautycounter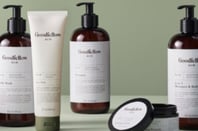 Goodfellow & Co

taps into naturalness trends by highlighting the use of nature-inspired scents, such as Moroccan Mint & Cedar, and minimalist pack designs to convey simplicity and purity.

Source:

Target
Rebels Refinery

taps into natural and eco trends, using 99-100% natural ingredients, being cruelty free and charitable, and telling a story about its beginnings.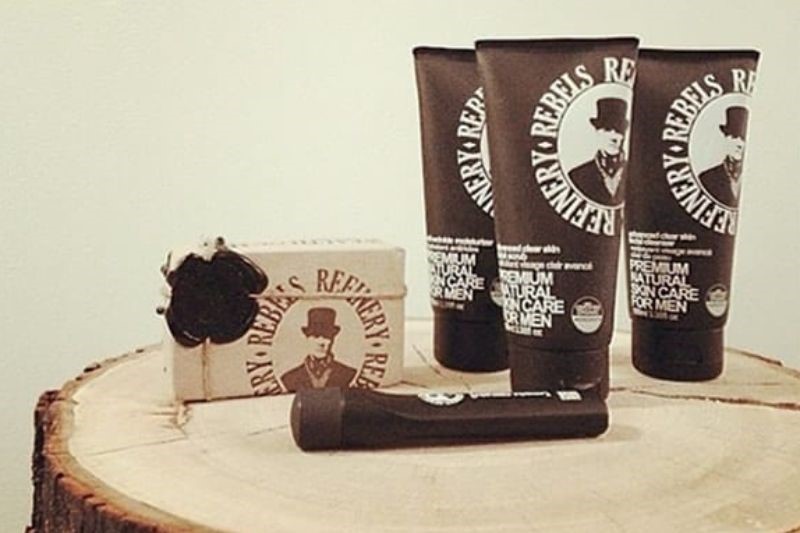 Source: Rebels Refinery
3) ALIGN WITH TRENDING THEMES (WELLNESS & INCLUSIVITY)
There is a continued renewed focus on physical, emotional and mental wellbeing. Brands focus on multiple benefit products emphasized on mental health, beard care, and inclusivity trends.
Hims, an online men's wellness direct-to-consumer brand that focuses on topics that may be deemed embarrassing, such as hair loss and sexual wellness.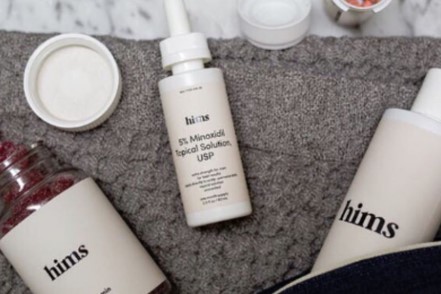 Source: Hims; Instagram/hims
Introduce beard care products that bring extra benefits into play can tap into demands for simpler grooming routines.
Source: Beard Grow XL

Source: Nordstorm

Beard Grow XL prevents hair loss and promotes beard hair growth faster and thicker
Beard Exfoliating Paste

cleanses, nourishes and exfoliates skin underneath beard
Be inclusive and adapt to changing gender norms.
While male-specific grooming products will continue to appeal, there is also a growth segment for changing gender norms that sway from stereotypical masculinity themes in marketing/advertising. There is an opportunity to appeal to an increasingly diverse population.
According to Mintel, 64% of older male iGen users of BPC products either already use or show interest in genderless beauty products.
Product highlights:
Keep Your Customers Smelling Sexy with Lebermuth Fragrances
All-Natural Fragrances:
95-5001-26 Earthy Cypress
95-5007-32 Bergamot Leather
93-0137-60 Aloe & Sea Moss
91-1047-39 White Tea Cedarwood Vanilla
93-0122-85 Basil Citrus & Sage
93-0135-57 Cedarwood Lime & Sage
92-9015-75 Ocean Woods
93-0138-40 Magnetic Mint
91-1051-29 Black Oak & Bourbon
94-4008-67 Cedar Clove Sandalwood
91-1053-87 Citrus Zest Sea Salt
93-0130-26 Vetiver Woods
93-0137-92 Cedar Leather
93-0138-45 Cedar Cypress Sandalwood
90-2997-90 Bergamot Sandalwood
93-0138-08 Sacred Forest
93-0138-10 Indigenous Spice
93-0136-22 Herbal Shower Fresh
93-0137-30 Fresh Water Spa
95-5011-26 Cool Water
95-5004-95 Bergamot Black Tea
91-1041-48 Fresh Citrus Vetiver
Fragrances:
91-1037-25 Aloe & Eucalyptus
93-0116-94 Basil Sage & Mint II
93-0137-51 Cedarwood Vanilla II
93-0130-58 Cucumber Mint II
91-1040-66 Cedar Saffron
93-0138-41 Cedar Leather
94-4008-23 Bergamot Coriander II
93-0138-19 Abrigo Azul Para Hombre
95-5011-04 Sandy Blue Coast
95-5010-54 Blue Banana
94-4001-50 Cypress & Citron
93-0128-35 Cedar Leather
95-5007-12 Sea Mist
93-0138-51 Magnetic Mint
93-0133-83 Amber & Black Cardamom
93-0133-94 Sea Moss & Aloe Type
94-4009-36 Art Of Shave Sandalwood Type
94-4009-09 Dove Men's Cool Fresh Type
---
THE LEBERMUTH DIFFERENCE
We have spent over 111 years creating our legacy in Essential Oils, the building blocks of our fragrances. With more than 86 years of combined experience, each of our senior perfumers uniquely balances technical knowledge and creative finesse to develop custom blends specific to each client.
We formulate your fragrance specific to the finished application. To ensure the fragrance we develop performs perfectly in your product, we verify physical, olfactive, and structural traits.
We look forward to partnering with you to achieve brand success.
---
Source: Gesu, R. D. (2019). A year of innovation in men's grooming, 2019. Mintel.