New Powder-To-Liquid Hand Wash Brand Forgo Is Sustainable Minimalism Personified
by Publication repost, on Apr 08, 2021
PUBLICATION REPOST l Beauty Independent Jenny Berg
When Allon Libermann set out to launch Forgo, his new line of powder-to-liquid hand washes, he had something to prove.
"Sustainable manufacturing is super easy to do, if you just do it," he argues. "Big companies are spending huge budgets on research and development, and even larger budgets on marketing themselves as sustainable without really showing the data or the metrics or making the changes that count, whereas we've been able to put in a lot of sweat capital in terms of hours of our own time, but, from a financial perspective, we're able to develop formulas very cost-effectively with our problem-solving and collaboration."
Libermann estimates that Forgo's launch, led by a group of three co-founders, cost roughly $5,000. "The solutions are out there, they're obvious, they're accessible," he says. "It's really just the companies who are stuck in old business."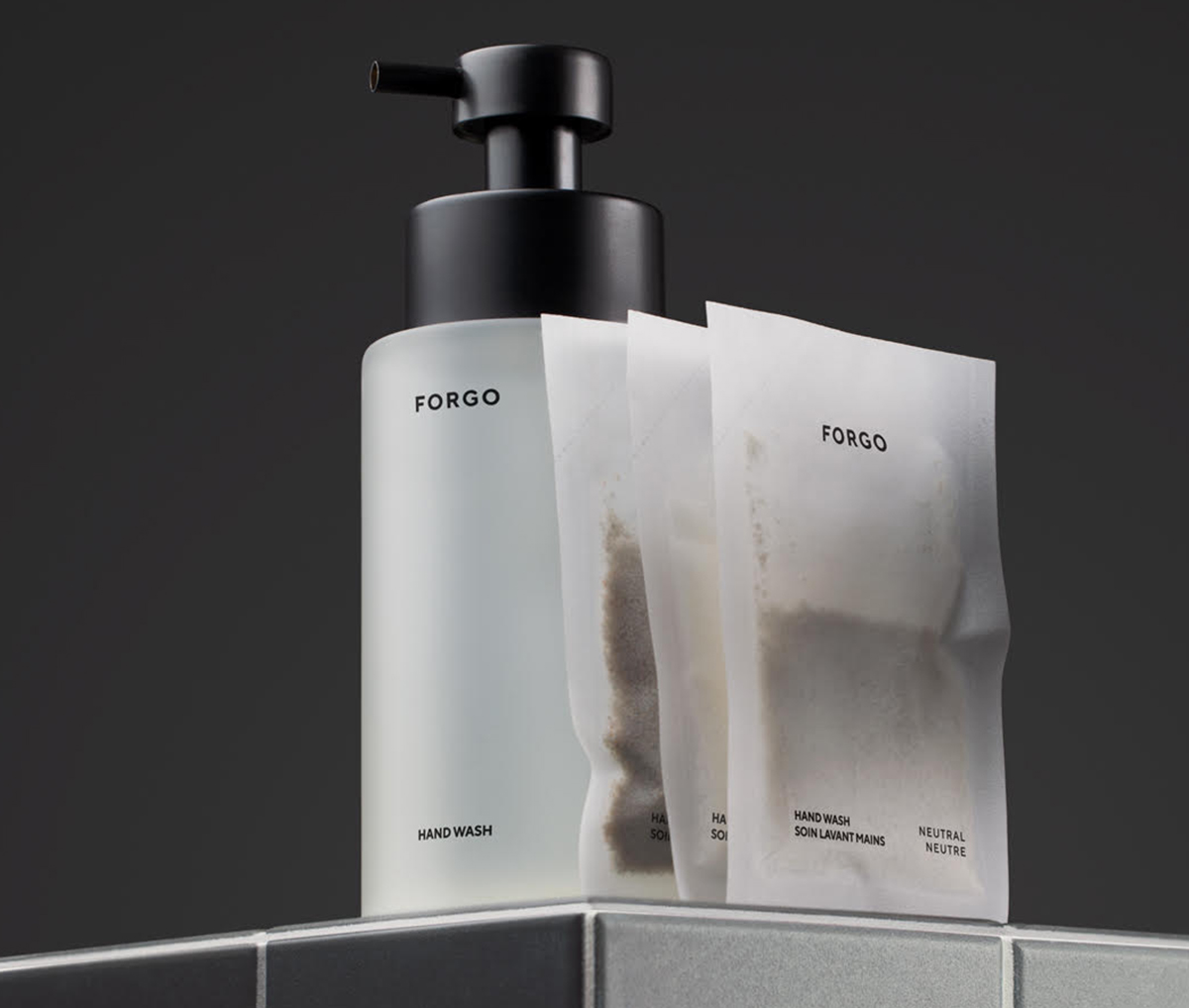 Based in Stockholm, Libermann has a background in furniture design and is a design manager with the studio Form Us With Love. For design projects, he's toured factories and partnered with brands like Ikea to assist with sustainable product development. "I've also worked with some big companies in the beauty industry tangentially and seen how they spend a lot of money to do nothing" for sustainability, he says. "I've been shocked by it."
Libermann says the concept for Forgo, which he initially pondered in 2017, felt "obvious" to him. With all its waste, he says, "The beauty industry had some low-hanging fruit that could be addressed with very small research and development budgets." He continues, "If you're going to start a new brand, you might as well try and be the most progressive in sustainability. There's no value in creating any other kind of beauty brand in my opinion."
In the early days of considering Forgo, Libermann discussed the rationale for it casually with friends. "It was like, oh my god, it's crazy how most of these personal care products, especially liquid soaps and lotions, can start in a powder form," he says, noting Forgo's powder can be shipped in paper, eliminating plastic, and doesn't have water. He says, "We know that one refill of our product is 85% less emissions than a new bottle of soap from the store."
"If you're going to start a new brand, you might as well try and be the most progressive in sustainability."
By 2018, Libermann put together a pitch deck and says he was showing it to "anyone who would listen." That included colleagues at the Form Us With Love. "I joined the design office because they weren't just designing furniture. They were also co-founding ventures," he says. The team at Form Us With Love was interested in his concept as was Samuel Chevalier, a friend with a career that had been focused on healthcare. Jonas Pettersson, CEO of Form Us With Love, is a founding partner at Forgo.
Two years of research and development ensued. Libermann and Chevalier contacted labs throughout Europe and North America. They didn't find many that were like-minded. "Most places we called thought the idea was impossible, and they just didn't see the value in not packaging soap in plastic bottles," says Libermann. "It was quite a process." Eventually, Forgo landed on a Canadian lab that understood its vision of powdered hand wash. The brand sources reusable glass bottles from Portugal and ships its soap in paper packaging that can be recycled and composted.
"We haven't localized everything, but I'm not sure how much you need to localize," says Libermann. "As we've done our research, we've realized that shipping is not the biggest footprint. The biggest footprint in carbon footprint and land usage is your initial manufacturing."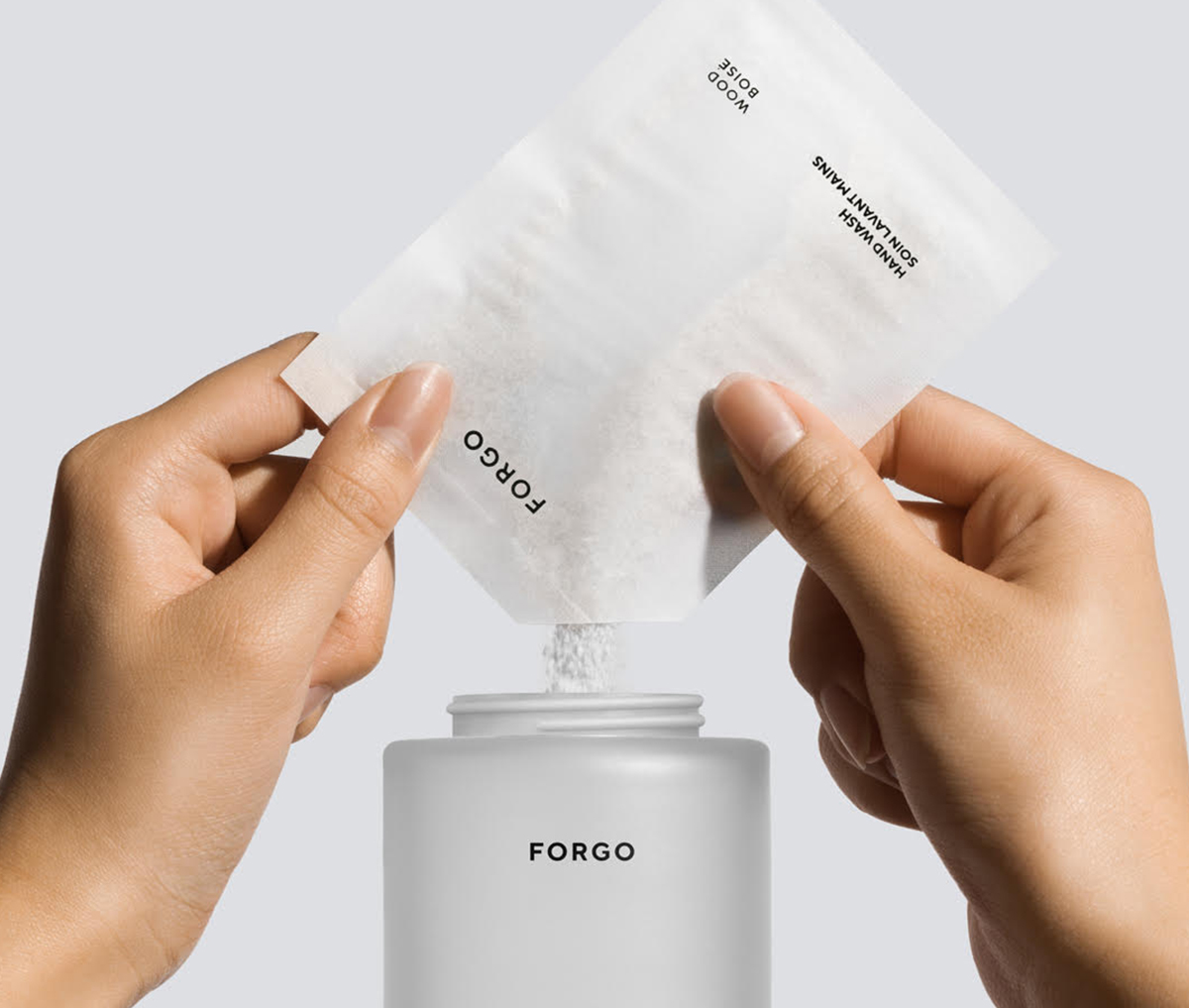 Forgo's hand wash powder is made with six naturally derived ingredients and available in three scents: neutral, citrus and wood. The fragrances are made from waste such as scraps from a Canadian lumberyard, and citrus peels and pulp from an organic farm in the Caribbean.
Libermann is confident that Forgo has tackled waste in packaging, for the most part. "We still want to improve the pump and the energy sources for factories, etc.," he says. "But the fundamentals are figured out, and we know what to do there."
Ingredients are trickier. Forgo has an internal wish list of improvements it's aiming to accomplish for ingredient sustainability. Libermann details, "Our checklist [has] all of our ingredients coming from replenishable crops that can be grown in moderate climates throughout Europe and North America, and then those ingredients are made without any petrol chemicals in the process and, if possible, those ingredients are made with a lack of deforestation, and that they're also made with good water usage." Although Forgo hasn't checked off every item on its list, he says, "We're light-years ahead of others in terms of completing that checklist, and we did it with a very small research and development budget of a few thousand dollars."
"One refill of our product is 85% less emissions than a new bottle of soap from the store."
Following a manufacturing setback due to COVID-19, Forgo's products went live via the brand's online store in November 2020. Once customers receive its hand wash, they empty a powder sachet into a reusable glass bottle and pour a cup of hot tap water into the bottle. They swirl the mixture in the glass vessel for about 30 seconds and wait for a minute or two until the powder is dissolved. The result is a lathering liquid hand soap. Prices range from $30 for the refillable glass bottle to $100 for an order that contains two bottles and two starter kits of the three scents.
Forgo has five products in its pipeline, but Libermann isn't sharing much about them. He hints, "We are coming after all the bathroom essentials. There's really no product that you use in your personal care routine that we're not going to address. It's just a question of time."
For now, Forgo is selling directly to consumers in Europe and North America, and is looking to build out subscriptions on its website. The brand will concentrate on direct-to-consumer distribution, but Libermann says he's in talks with retailers that range from major chains to high-end specialty boutiques. "We're really appealing to a very large spectrum," he says. So far, the brand has primarily relied on investment from friends and family, according to Libermann. It raised nearly $63,000 on Kickstarter last year prior to selling and could pursue a larger round of funding later this year.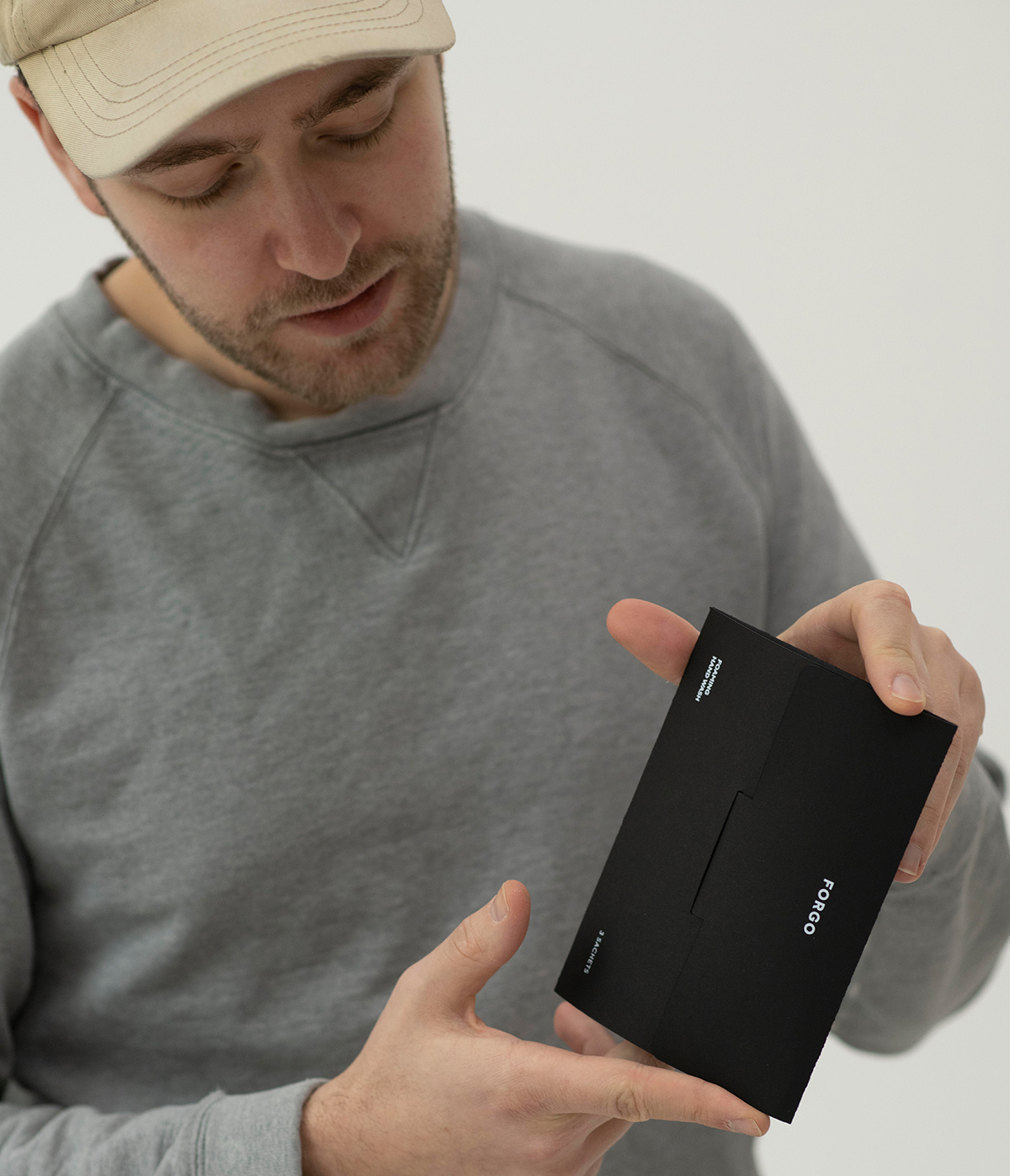 Libermann declines to specify a first-year sales goal for Forgo, saying only that his goal is to sell "a lot." He expounds that Forgo has experienced substantial organic traffic to its site. In part, he attributes the traffic the environmental statistics that are clearly laid out on the platform.
"We're hoping that being informative is going to drive traffic," says Libermann. "For example, if you wanted to find what the recycling rate of different materials are in Europe, it would take a while to get that information just from Google searches, and what we did is we did the research ourselves. We calculated that data, and we have that info. If you have questions about sustainability in your consumer goods, we probably have the answer. We want to be a destination for that kind of info."
---
Source: https://www.beautyindependent.com/powder-hand-wash-brand-forgo-sustainable-minimalism-personified