ORGANIC FLAVOR RULES HAVE CHANGED
by Lebermuth, on Aug 01, 2019
Lucky for you, Lebermuth is here to help you understand the current situation,
why the change was needed, and how Lebermuth is uniquely positioned to help you remain compliant.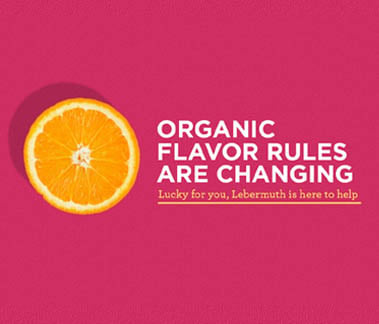 In December 2018, the National Organic Program (NOP) published the final rule that updated several National List Flavors: § 205.605(a), including an annotation for flavors to now require commercial availability searches for organic flavors.
WHY THE CHANGE?
The change is intended to encourage the manufacture and use of organic flavors.
WHAT WILL NOT CHANGE?
Any flavor you use that is currently certified as organic
Any ingredient you use that is not certified as organic
WHAT WILL CHANGE
If you are using non-synthetic or organic compliant flavor(s) it may be used but only when organic flavors are not commercially available. "Commercially Available" can mean many things to many people and can change. The only one who determines this is your organic certifying agent.
If this is the case, you will:
Provide documentation to prove quality, quantity, and form to be essential in the production of your product.
Non-synthetic/artificial and/or organic compliant flavor(s) must be derived from organic or non-synthetic sources only and must not be produced using synthetic solvents and carrier systems or any artificial preservative
REGULATORY AND COMPLIANCE
As your trusted supplier, Lebermuth will guide and provide you with all the necessary regulatory and supply chain documentation for you or your certifier.
WHAT YOU NEED TO DO
Implementation of the final rule for flavors will take effect on December 27, 2019 at which time all certified operations must have a documented procedure in place to search for and use organic flavors when commercially available.
WE'RE HERE FOR YOU
We have an extensive list of certified organic flavor solutions. If you have questions or would like a sample, please contact your Account Executive. Just need documentation? Our regulatory staff is here to help, please email them at regulatory@lebermuth.com.