Lebermuth takes a taste forward - 2020 Flavor Trends
by Lebermuth, on Jul 23, 2019
CONSUMERS WANT INNOVATION.
#1 EXOTIC FRUITS
Either individually or paired with other fruits, exotic fruits are making their way into the mainstream.
Yuzu
Japanese Plum
Lychee
SOMETHING NEW AND DIFFERENT.
#2 CROSSOVERS
Not the vehicle kind; the yummy kind. As companies get creative to attract consumers' attention and boost sales, they have taken to mixing and matching among applications, flavors, and categories.
Birthday Cake Flavored Oatmeal
Sandwich Cookie Flavored Candy Canes
Adult Beverage Flavored Gummy Candies
Pressed Candy Flavored Ice Cream Treats
SEASONAL IN ANY SEASON.
#3 FLORALS
Floral ingredients lend a fresh, light flavor to drinks. With a solid footing in the adult beverage market, we are seeing floral flavors grow into other segments like water, RTD, and tea.
Elderflower
Ylang Ylang
Hibiscus
A THRILL FOR THEIR TASTE BUDS.
#4 SPICY TOOTH
With the recent increased exposure to exotic cuisines, we are enjoying spices and traditional flavors from all around the globe. These flavors are showing up in many desserts and sweet treats, like spicy chocolates, cookies, and ice creams. We will soon have a spicy tooth alongside our sweet tooth.
Spicy Chocolate
Spicy Desserts
Give your consumers what they want with Lebermuth's 2020 Flavor Trends. Discover trends like fruity Yuzu beverages, birthday cake flavored oatmeal, floral hibiscus, spicy desserts, and more!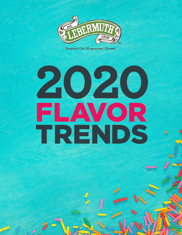 ---
THE LEBERMUTH DIFFERENCE
Since 1908, The Lebermuth Company has been a leader in the Essential Oil, Fragrance, and Flavor industries. We create specialty flavors covering the market from organic compliant to natural to artificial.
We look forward to partnering with you to achieve your brand success.