Got it Made: South Bend's Lebermuth Company makes the 'world smell and taste better' with flavors and fragrances
by Lebermuth, on Jun 30, 2019
SOUTH BEND — The story has all the trappings of a biblical parable: In 1908, Morris Brown — a merchant not too long removed from his roots in Russia — came upon a stranded farmer in a remote corner of Bremen.
A friendship was born, and the farmer entrusted Brown with the sale of his peppermint oil — one early customer, according to Brown family lore, was the Wrigley family of Chicago, which a few years later would debut a new chewing gum flavor called Doublemint.
Now, 11 decades later, Brown's business, which is based in northwest South Bend and called The Lebermuth Company, is still in the flavor market.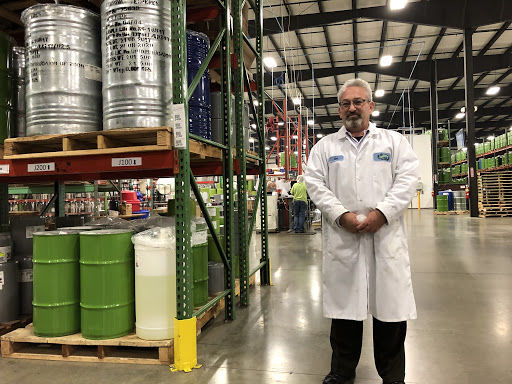 Rob Brown, CEO & President of The Lebermuth Company, stands inside the warehouse surrounded by drums of flavors & fragrances. Lebermuth, located in South Bend Indiana, supplies customer fragrances , flavors and essential oils for household, personal care, confectionery products and more, company officials say.
It provides scented flavors, fragrances and essential oils to makers of toothpaste, body wash, car fresheners and more. Now, Lebermuth is trying to branch into flavoring cannabidiol oil, also known as CBD, which is derived from cannabis plants and last year won government approval for the treatment of epilepsy.
Although cannabidiol oils remain controversial in some sectors, they are now used in beauty products such as lotions and bath salts and edible products like candy. Lebermuth officials see their entry into the market by providing flavors as another way to continue Morris Brown's spirit of innovation.
"We've been successful because we're a pioneer in what we do," said Rob Brown, CEO and president of Lebermuth. "My great-grandfather was a pioneer in marketing essential oils from the very beginning. We were pioneers in producing certified essential organic oils back in the '90s. When we see opportunities in the market that need an essential oil, a flavor or a fragrance, we generally respond to those markets."
Brown said the company creates flavors and essential oils that act like "natural masks" to CBD.
"It's not a large business," he said. "I mean CBD is just being incubated and the demand for flavor is not very large, so we've sort of pioneered our way into that industry by being able to provide very concentrated products to support that industry."
And for Lebermuth, flavoring CBD is just part of a wide-ranging portfolio of products. Although they did not provide a full list of their clients, company officials say that chances are, if you've used body wash or deodorant or had a flavored carbonated beverage, you've used a product that contains their flavors, fragrances or oils.
Citing privacy concerns, Lebermuth declined to provide a complete list, but Shannon Winnicki, director of marketing and ecommerce said, "we provide essential oils, fragrance, or flavors to the top household, personal care," and confectionery products.
"We make the world smell and taste better," Brown said, "and enrich the world with creative flavors and fragrances."
The company works with hundreds of farmers in the United States and around the world, and produces millions of pounds of fragrances, flavors and essential oils, Winnicki said. A top seller is mint — both spearmint and peppermint — though Wm. Wrigley Jr. Company is no longer a customer since the Mars acquisition.
On a recent Thursday afternoon, Brown walked around his company's warehouse with a smile as he showed how each 55-gallon drum was filled with a flavor or a fragrance. Walking down one aisle there's a waft of blueberry, then there's a room filled with garlic, and down another aisle is lavender.
"Each one of those things is a different material that has a different smell or taste," he said. "It could be things that taste like cinnamon or things that taste like peppermint. It could be things that smell like roses or things that smell like jasmine, or some things that you wouldn't want to smell. You can smell garlic and mustard and dill."
He said Lebermuth makes floral materials, citrus materials, spicy materials, herbaceous materials and things that are smoky and woodsy.
"All different aromatic molecules have a different aroma," Brown said. "And those become the paint, the ink that we use to build something creative for our customers."