Fragrance Trends inspired by Pantone's 2019 Color of the Year - Living Coral
by Lebermuth, on Jan 28, 2019
Living Coral is Pantone's 2019 Color of the Year, embracing our need for "comfort and buoyancy," "optimism and joyful pursuits."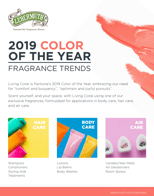 Scent yourself, and your space, with Living Coral using one of our exclusive fragrances, formulated for applications in body care, hair care, and air care.
BRIGHT DAY l The look and feel of a bright sunny day with a pleasant breeze can bring joy to the soul while promoting a clearer mind, optimism, and a go-easy attitude. Embrace the day ahead with this sparkling essential oil blend of pure sunshine. Sweet lemon, tart grapefruit, and crisp lemongrass will energize, enlighten, and set your spirit soaring.
RED CORAL l This engaging fragrance features zesty mandarin orange and sugared pear mingles with creamy gardenia and luscious red plum, finishing with precious amber and musk.
CORAL REEF l Romantic jasmine and wild violets bloom beneath waves of shimmering citrus and pure marine elements ascended by white musk and aged driftwood.
APPLICATIONS
Lebermuth has vast experience across multiple industries with many exclusive brands from hair care to body care to air care. Lebermuth's perfumers are supported by an entire team focused on the sensory impact of your products.
When a customer buys a hair care, body care, or air care product, they want it to smell good. Whether it is an herbal shampoo, lavender body wash, or cinnamon room spray, each scent creates an experience that is meaningful and specific to the customer.
HAIR CARE: The fragrance of shampoos, conditioners, styling aids, and hair treatments are noticed all day and every day.
BODY CARE: The soothing scent of lotions, lip balms, and body washes help to moisturize and rejuvenate the mind.
AIR CARE: The ambiance-setting aroma of candles or wax melts, air deodorizers, and room sprays can provoke memories of one walking through a rose garden, baking holiday cookies, a day at the beach and more.
THE LEBERMUTH DIFFERENCE
We have spent over 110 years creating our legacy in Essential Oils, the building blocks of our Flavors. Our flavor chemist uniquely balances technical knowledge and creative essence to develop custom powder and liquid flavors for each client.
We create specialty flavors covering the market from organic compliant to natural to artificial. We partner with you to learn your needs, goals, and challenges to develop a flavor that achieves your brand's success.
We look forward to partnering with you to achieve your brand success.