Flavor Trends inspired by Pantone's 2019 Color of the Year - Living Coral
by Lebermuth, on Jan 31, 2019
Living Coral is Pantone's 2019 Color of the Year (COY), embracing our preference for "lighthearted," "effervescent," and "warmth and nourishment."
With the release of the latest COY, many in the food industry are looking for potential food applications. After all, "90% of shoppers decide whether or not to buy a product solely based on color and perceived taste," says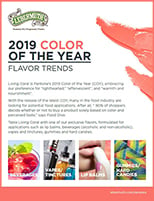 FLAVOR TRENDS
MIMOSA | Bubbly, fruity, and sweet, our Mimosa flavor highlights the effervescence of the Color of the Year. We'll toast to that!
HONEYSUCKLE | Lightly floral and all sweet, Honeysuckle screams summer and warmth, with soul-nourishing properties. This flavor matches another 2019 trend—floral notes in foods and beverages, which has grown 500% in the last year (source: Mintel GNPD).
MANGO PEACH | Scrumptious and fuzzy, our Mango Peach flavor is light yet deep, with a tropical and effervescent feel that recalls the last time your drink held a little umbrella.
PEACH COBBLER |Warmth and nourishment, like a fresh baked dessert during family gatherings, our Peach Cobbler makes mouths water.
CANTALOUPE | Light and refreshing, like a rush of cool water on a hot day, our Cantaloupe flavor's ripe and mellow melon flavor symbolizes the buoyancy of Living Coral.
FLAVOR APPLICATIONS
Taste Living Coral with one of Lebermuth's exclusive flavors, formulated for applications such as lip balms, beverages (alcoholic and non-alcoholic), vapes and tinctures, gummies and hard candies.
Imagine our flavor formulations in your products, like a cantaloupe lip balm, mimosa gummies, honeysuckle vape, or a mango peach sports drink.
THE LEBERMUTH DIFFERENCE
We have spent over 110 years creating our legacy in Essential Oils, the building blocks of our Flavors. Our flavor chemist uniquely balances technical knowledge and creative essence to develop custom powder and liquid flavors for each client.
We create specialty flavors covering the market from organic compliant to natural to artificial. We partner with you to learn your needs, goals, and challenges to develop a flavor that achieves your brand's success.
We look forward to partnering with you to achieve your brand success.