Mitch McConnell Tells FDA To Clear A Path For CBD Products Though Spending Bill Directive
by Publication repost, on Sep 23, 2019
ARTICLE BY KYLE JAEGER l MARIJUANA MOVEMENT.NET
Senate Majority Leader Mitch McConnell (R-KY) is moving to insert language into a congressional spending report that calls on the Food and Drug Administration (FDA) to clear a path for the lawful marketing of hemp-derived CBD products.
FDA has said that allowing CBD to be sold as food items or dietary supplements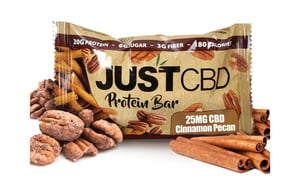 would require it to develop alternative regulations that could take years to complete without congressional action. But McConnell, who was the chief proponent of a hemp legalization provision of the 2018 Farm Bill, isn't interested in waiting around.
Photo credit: justcbd.com
In draft language shared by the U.S. Hemp Roundtable on Tuesday, the senator is asking FDA to "issue a policy of enforcement discretion with regard to certain products containing CBD" within 120 days—a move that industry stakeholders say will clarify rules so that banks are more willing to service CBD companies.
The provision of the spending report was marked up in the Senate Appropriations Subcommittee on Agriculture on Tuesday. It will go before the full Appropriations Committee on Thursday.
Prior to issuing its enforcement discretion policy under McConnell's report language, FDA would have to submit a report to the committee within 90 days detailing its "progress toward obtaining and analyzing data to help determine a policy of enforcement discretion, and the process in which CBD meeting the definition of hemp will be evaluated for use in products."
Once those provisional enforcement guidelines are established, they would remain in place until FDA finalizes the regulatory process.
"FDA is encouraged to consider existing and ongoing medical research related to CBD that is being undertaken pursuant to an Investigation New Drug (IND) application in the development of a regulatory pathway for CBD in products under the jurisdiction of FDA and to ensure that any future regulatory activity does not discourage the development of new drugs," the report states.
"We are thrilled by Senator McConnell's efforts and are hopeful that other members of Congress will join him in applying pressure on the FDA to set forward expeditiously a clear regulatory path for the retail sale of CBD," Jonathan Miller of the U.S. Hemp Roundtable told Marijuana Moment.
Outside of McConnell's proposal, the FDA and U.S. Department of Agriculture (USDA) appropriations legislation already sets aside $2 million to support research and regulatory activities surrounding hemp-derived CBD products and $16.5 million for the broader hemp production program.
During the subcommittee meeting on Thursday, Sen. Jeff Merkley (D-OR) praised the bill's support for hemp legalization implementation.
"You might note that this year in Oregon, the hemp industry may well be a billion dollar crop, and that is an incredible addition to income for our agricultural community," he said.
The legalization of hemp and its derivatives has been met with intense interest from manufacturers and lawmakers alike, but limitations on the marketability of CBD has been an ongoing source of frustration.
Last week, a bipartisan pair of lawmakers asked fellow House members to join them in signing a letter to the head of FDA that similarly asks for enforcement discretion guidelines allowing companies to sell CBD products.
The House, which approved its version of appropriations legislation for the upcoming fiscal year prior to the summer recess, included a separate amendment that would require FDA to establish rules providing for the lawful marketing of CBD in food and dietary supplements.
Meanwhile, USDA is expected to soon release its broader hemp regulations soon.
Read McConnell's full CBD report language below:
As previously mentioned, the Committee provides $2,000,000 for research, policy evaluation, market surveillance, issuance of an enforcement discretion policy, and appropriate regulatory activities with respect to products under the jurisdiction of the Food and Drug Administration which contain cannabidiol (CBD) and meet the definition of hemp, as set forth in section 297A of the Agricultural Marketing Act of 1946 (7 U.S.C. 1639o). Within 90 days, FDA shall provide the Committee with a report regarding the Agency's progress toward obtaining and analyzing data to help determine a policy of enforcement discretion, and the process in which CBD meeting the definition of hemp will be evaluated for use in products. Within 120 days, FDA shall issue a policy of enforcement discretion with regard to certain products containing CBD meeting the definition of hemp as defined by section 297A of the Agricultural Marketing Act of 1964 (7 U.S.C. 1639). Such enforcement discretion shall be in effect until FDA establishes a process for stakeholders to notify FDA for use of CBD in products that include safety studies for intended use per product, and makes a determination about such product. FDA is encouraged to consider existing and ongoing medical research related to CBD that is being undertaken pursuant to an Investigation New Drug (IND) application in the development of a regulatory pathway for CBD in products under the jurisdiction of FDA and to ensure that any future regulatory activity does not discourage the development of new drugs."
---
Source: https://www.marijuanamoment.net/mitch-mcconnell-tells-fda-to-clear-a-path-for-cbd-products-with-new-amendment/