Article: The Year of the Mushroom
by Publication repost, on Jul 25, 2019
Editor: Fashion Snoops
"Trending powerhouse ingredients like CBD, Hemp, and Mushrooms continued to influence the specialty food market with new items promising to regulate stress and inflammation. "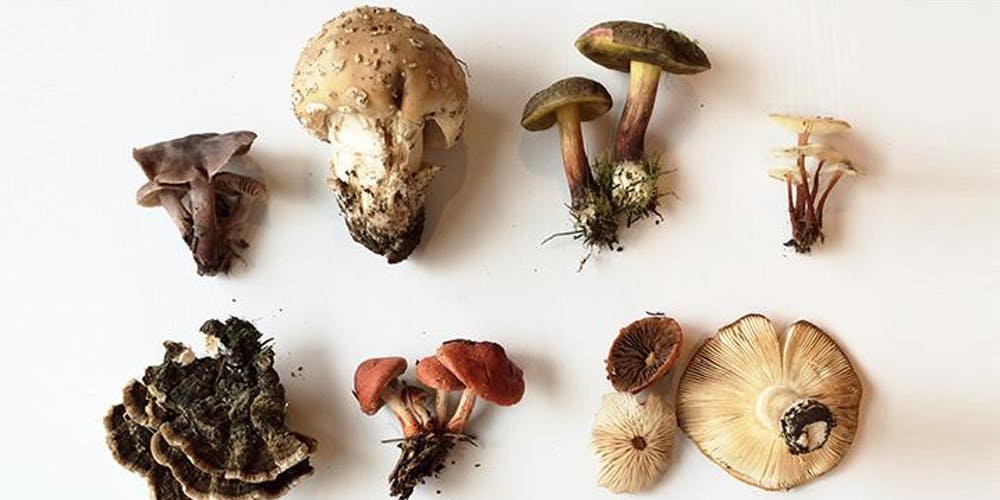 The Summer Fancy Food Show was held June 23-25 in New York City and presented by the Specialty Food Association at the Javits Center, the show featured over 2,400 companies and 200,000 food and beverage items to taste. As the specialty foods industry tops $150 billion in sales annually, companies seek out unique ingredients, nutritional innovations, and sustainable packaging to help them stand out. Trending powerhouse ingredients like CBD, Hemp, and Mushrooms continued to influence the specialty food market with new items promising to regulate stress and inflammation. Ingredients like South American tonic Angostura Bark, naturally sweetening Yacon Root, and new carb Cassava were all popular newcomers at this year's show.
This year's Fancy Food Show was packed to the brim with quenching drinks. Brooklyn Crafted debuted their Calamansi Ade, featuring juice from the Calamansi fruit, a Phillipino citrus that's rich in vitamin C. Kimino's Sparkling Ume features another unusual fruit, the Ume from Japan. Naturally high in polyphenols and antioxidants, the Sparkling Ume replenishes while it quenches. For post workout electrolyte restoration, Coco Luxe's Vitamin B6 Water is ideal: the 100% natural coconut water beverage is infused with vitamin B6 to assist in workout recovery.
The specialty food industry enters the beauty arena with a lineup of food and beverages designed to boost hair, skin, nails, and overall wellness for a new generation of beauty fuel.
Primal Kitchen's Collagen Fuel Bar contains 7.5 grams of collagen and 15 grams of protein to help restore essential amino acids necessary for healthy, youthful skin. California based dessert company Radiant makes taking your beauty supplements into a sweet experience, with their Beauty Frozen Dessert that uses a mixture of vegan milks along with collagen and keratin for a beauty boosting treat. Pinky Up's Glow Tea helps brighten skin with a delicious blend of turmeric, ginger, and chamomile, which supports circulation and calms inflammation.
New kitchen staples also debuted, making specialty cooking easier and more delicious. Ancient grain Fonio was seen throughout the show, and will soon rival quinoa and farro due to its high protein, iron, and fiber content that supports heart health and strengthens cartilage. Kitchen Accomplice's No Bone Broth brings the nutritional benefits of bone broth to the vegan community, allowing vegans to have a delicious, nutritious meal in an instant. Another treat for specialty diets is Primal Kitchen's No Soy Teriyaki. Whole 30 and Paleo approved, No Soy Teriyaki Sauce adds a distinct Asian tang to stir fries without soy by using Organic Coconut Aminos. The Jackfruit Company also helps vegetarians up their protein game, with Jackfruit that acts as a plant-based meat alternative for many traditional recipes. The show also featured several healthy alternatives for snacking, like Poshi's marinated asparagus cuts, Rick's Picks Snacking Pickles, and Three Farmers crunchy roasted green peas in flavors like Wild Ranch and Dill Pickle Pow. Cassava was wildly popular with companies like Nova Crisp and Jans providing gluten free alternatives to popcorn and potato chips.
Lastly, sustainable packaging continued to influence the specialty food market as consumers increasingly demand eco-friendly options with little environmental impact. Companies like Löfbergs, one of the largest Nordic coffee producers, phases out fossil fuel plastics and introduced cardboard cans for their packaging.
Removing single use plastics is a hot-button issue in the food industry, with companies like Z Wraps and The Mushroom Benefit turning to reusable wax coated cotton bags and biodegradable mesh, respectively, to solve the ecological crisis.
INGREDIENTS... WITH BENEFITS
L-theanine
- L-theanine, an amino acid most commonly found in various tea leaves and Bay Bolete mushrooms are best known for promoting relaxation without drowsiness. Although, it is thought to provide a number of other benefits such as: increased focus, better immunity, blood pressure control, and increased sleep quality.
Cassava
- One of the world's most widely consumed sources of carbohydrates, the Cassava root is rich in vitamins and minerals. This root vegetable is most commonly ground up and made into tapioca starch.
Yacon Root
- Popularly used as a natural sweetener, the Yacon Root has benefits which encourage potential weight loss, reduction in cholesterol, and improved digestive health.
Yaupon
- This species of holly is native to southeastern North America and is known as the most caffeinated plant in the region. Yaupon is commonly made into tea and contains theobromine, the pleasure molecule found in dark chocolate, which in addition to being a mood enhancer also lowers blood pressure and tooth decay.
Fonio
- Gluten- free, high in protein, iron, and fiber, Fonio is an ancient and extremely nutritious grain. Adding Fonio to your diet will boost energy levels, aid digestion, improve heart health, and strengthen cartilage in hair and nails.
Angostura Bark-
The bitter, aromatic bark of the South American Angostura plant which is many times liquified to make Angostura Bitters the indispensable bar fixture.
Hops -
Hops are the dried, flowering part of the hop plant, which is commonly used for brewing beer and as flavoring components in food. Hops also serve as a solution for a plethora of health and behavioral issues such as: anxiety, inability to sleep (insomnia) excitability, attention deficit-hyperactivity disorder (ADHD), nervousness, and irritability.
Hemp
- A strain of the Cannabis Sativa plant, Hemp plants are sought out for their seeds which are many times made into oil. Hemp oil can be used as a natural pain reliever, promote skin and brain health, as well as, ease muscle tension.
Mushroom -
Sought after, for dietary and cosmetic benefits, mushrooms are thought to promote a healthy complexion and hair, increased energy, overall lower weight, and decrease one's risk of diabetes and heart disease.
Collagen Protein
- Collagen is the body's main structural protein and constitutes of 30% of the protein in our bodies, making it the most abundant protein in humans. This essential protein is best known to promote radiant, glowing skin, helping one's complexion to appear more youthful and healthy.
MCT -
Medium-chain triglyceride, or MCT, is an oil extracted from coconut oil. MCT oil is many times added to foods in order to gain benefits such as: promoted weight loss, instant energy, and could help to manage Epilepsy, Alzheimer's, and Autism.
Calamansi
- Also known as the Philippine lime, Calamansi is thought to contain many minerals and vitamins, especially vitamin C which is essential for building immunity and detoxifying the body.
SOURCE: https://www.fashionsnoops.com/ReportPage/beauty/Trade_Shows/Food-Flavors/SummerFancyFoodShow-40366