Looking for Terpenes? We've got 'em
by Lebermuth, on Oct 07, 2019
WHAT ARE TERPENES?
Even if you do not know what terpenes are, you have positively experienced an abundance of them! Terpenes are the chemicals that give citrus, sage, lemongrass, cinnamon, dill, and every plant, flower, tree, and fruit its unique and pleasant—or unpleasant—aroma and flavor.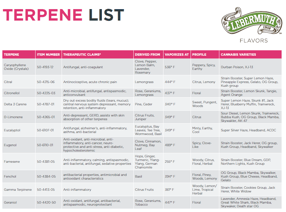 THE BUILDING BLOCKS
There are at least 20,000 different types of terpenes found in numerous species of trees, plants, flowers, and fruits. Insects can also have and use terpenes as a natural defense against predators. There are more than 100 types of these 20,000 terpenes in the cannabis plant, but some of these terpenes can also be naturally found elsewhere in nature.
Some of the most common types of terpenes include:
LIMONENE
AROMA: Citrus
FOUND IN: Grapefruit, lemon, lime, and in some types of oranges.
HEALTH: Weight loss, treatment aid for bronchitis, boosts ointment effectiveness.
CANNABIS STRAIN: Super Lemon Haze
OUR PRODUCT CODE: 50-4265-01
CAMPHENE
AROMA: Herbal
FOUND IN: Ginger, Sage, Oregano, and Cilantro.
HEALTH: Anti-Inflammatory, Antioxidant, Anti-Fungal
CANNABIS STRAIN: Ghost OG
OUR PRODUCT CODE: 50-4191-04
MYRCENE
AROMA: Earthy, Musky, with Fruitful Flavors
HEALTH: Aids muscle relief, anti-inflammatory, sedative
FOUND IN: Mangos, Lemongrass, Thyme, Hops
CANNABIS STRAIN: White Widow
OUR PRODUCT CODE: 50-4588-02
LINALOOL
AROMA: Floral Aromas with A Hint of Sage
HEALTH: Anti-inflammatory, helps modulate motor movement
FOUND IN: Flowers, Mint, Cinnamon, Some Fungi
CANNABIS STRAIN: LA Confidential
OUR PRODUCT CODE: 50-4520-20
ALPHA PINENE
AROMA: Piney (Pine Trees)
HEALTH: Cough Suppressant, Alertness, Memory Retention
FOUND IN: Pine Needles, Rosemary, Basil, Parsley, Dill
CANNABIS STRAIN: Jack Herer
OUR PRODUCT CODE: 50-4057-10
Lebermuth has a vast library of terpenes and terpene blends available. Contact our Flavor Account Executive for more information or contact us at 1-800-648-1123.
---
*Disclaimer: Lebermuth are not medical practitioners and statements within have not been evaluated by the Food and Drug Administration. Information is not intended to diagnose, treat, cure or prevent any disease. The information on this site is not intended or implied to be a substitute for professional medical advice, diagnosis or treatment. Please consult a physician or other licensed health-care professional for healthcare treatments.
SOURCES: https://www.analyticalcannabis.com/articles/the-difference-between-cannabinoids-and-terpenes-311502 https://www.davincivaporizer.com/news/terpenes-flavor-explained/